Production System
We handle everything from tool design and fabrication to part processing, PCB mount assembly, and product assembly, including individual proposals.
Our enhanced in-house infrastructure responds to our customers' needs.
Design
Tool Design
Electrical
Mechanical
Tools are designed with CATIA, Solid Works, and TOPSolid.

Prototype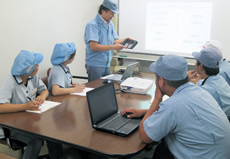 Our Technology Department carefullyexamines ways to improvequality, cost, and delivery to meetthe needs of our customers.

Tooling Fabrication
Stamping Tools
Insert Molding Tools
Molding Tools
Our processing is highly reproducible thanks to high-precision metalworking, and includes single shot stamping, progressive, hoop, hoop insert, mold, general, dual, insert, and other processes. Our process control system employs a tool production control system (Dr. Process).
Simulations are run using the TAIMON flow analysis software, allowing for a thorough examination at the design stage.


Parts Processing
Stamping
Painting / Laser Etching
Molding
Insert Molding
Using insert molding, progressive stamping, general molding, dual molding, painting, laser markers, and other unique technologies, we are able to create high-quality products that meet our customers' needs.


PCB MountAssembly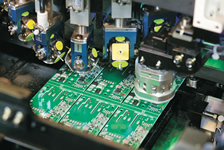 Our visual solder inspections employ a color highlight method that uses a camera to detect hue information from 3D solder surfaces, allowing for the highly precise determination of solder conditions. We perform advanced quality control on electronic substrates, which continue to densify, and also handle product traceability.

Assembly
We comprehensively manage all processes, from the arrangement of operations and pivotal examinations to packaging and shipping. We promote automation and have established highly efficient, high-yield production lines in an effort to reduce work, maintain quality, and decrease costs. We also manage floor entry and exits with our unique ESD gate system that incorporates electrostatic countermeasures.


Outgoing Inspection

Delivery